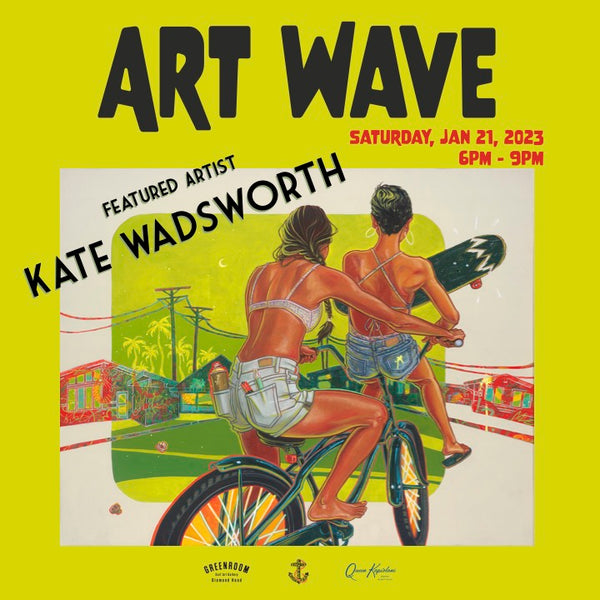 Art Wave by Kate Wadsworth開催決定!
ART WAVE - Art Exhibition開催決定!
主催:Greenroom Gallery Diamond Head
アート:Kate Wadsworth
人気の女性ローカルアーティストKate Wadsworthを招いての2023年最初のアートイベント!
開催日:1月21日 土曜日
場所:Queen Kapiolani Hotel1階 ロビーアリア
時間:6PM - 9PM
<Artist>
Kate Wadsworth was raised on the beautiful east side of O'ahu, Hawai'i, where she currently lives as an illustrator and graphic designer. She spent several years living on the East Coast where she received her BFA in Communication Arts from Virginia Commonwealth University in Richmond – a multicultural city that strengthened her interest in figurative art and urban sketching. Equally inspired by the natural world, she loves to experiment with bold colors, exaggerated shapes, and purposeful line work to tell stories with subtle but deliberate symbolism.
Kate has had the privilege to work with a variety of local and international clients. She has created poster artwork for the Vans Triple Crown of Surfing, and the Sony Open in Hawaii; editorial illustration for Hawaii Business Magazine, and the Los Angeles Times; and she just finished up her first picture book for Kokila, an imprint of Penguin Books.